In one of his novels, Franz Kafka mentions a priest from Kyiv who stopped the crowd during 1905 revolution by cutting a cross on his palm with a knife… During the revolution in Kyiv in 2014 there were dozens of courageous priests. Perhaps because of them there were fewer victims on Maidan than there could be.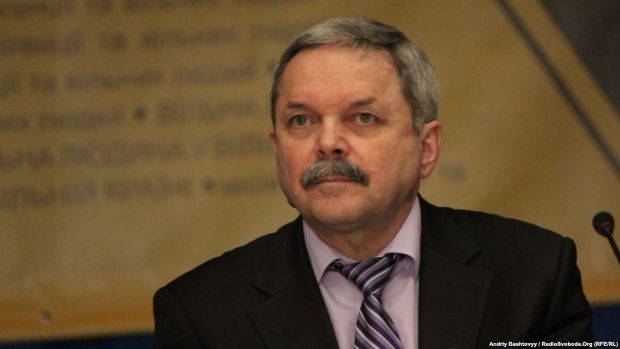 UNIAN discussed the role of church in Ukrainian revolution in Brussels with the leading Ukrainian theologian, Vice-Rector of Ukrainian Catholic University, former dissident Miroslav Marynovych.
How do you think Ukrainian churches got through the revolution?
It was a great test and I cannot say that all churches passed it equally well. But, speaking of Church as an institution, there were some successful and significant moments in Maidan history which showed the importance of church in Ukrainian society .
Opening of St. Michael's Cathedral doors for wounded by Kyiv Patriarchate happened to be some kind of a culmination. People searching for shelter were allowed in the Cathedral, where they were slept on its floor. It was incredible to see people lying under iconostasis.
It was a revelation for the whole Ukraine. And it showed true nature of Church, a bit forgotten by now. However, it remains the same in the West and the East of Ukraine – Church provides shelter for persecuted. And this easily forgotten nature shocked…
Nearly eight centuries have passed since Michael's Monastery sheltered people from the Mongol hordes, when Batu besieged Kyiv. Now people were hiding in the same Cathedral from "Berkut" persecution. This is somehow symbolical…
In fact, actually it was the symbolism that has stunned people. Also, those Maidan night prayers, particularly, night chaplaincy of priests made significant impact on perception of Church. Priests' presence at nights was especially important for people standing and waiting for the attack almost every night. Some priests, who were hearing people's confessions, told me that it was some kind of a cry from people's hearts. Those were real, pure and frank confessions; there was no guile, as when politicians attend church in front of television cameras. Instead, there was pure Christianity.
This pastorship moment was fantastic even for priests themselves. They said that before the Maidan revolution they had never seen such a pure Christianity. Christ said "where two or three are gathered together in my name, there am I in the midst of them" and it is right thing to say that Christ was on Maidan himself.
But Maidan gave examples of not only Christian, Orthodox and Greek Catholic, religious service. Didn't it?
Absolutely right. There were hierarchs of various churches and ordinary priests on Maidan. There were hundreds of thousands of people praying on Maidan. Where else in Europe such thing could happen? Such a mass prayer is bound to have great spiritual significance. Muslim mullahs and Jewish rabbis came to the Maidan stage for prayer… And it gave a sense of partnership and solidarity.
There was a Crimean Tatar tent on Maidan, and for them it was important that their Imam also prayed at the stage, that there was no monopoly of Christian priests. Just as well rabbis' presence was very important for Jewish activists of the Maidan.
But if we return to interfaith issues in Ukraine, one couldn't help noticing that in terms of proximity to revolutionary people, Kyiv Patriarchate appeared to be closer than Moscow Patriarchate. UOC-MP was either on the side of previous government, or kept neutral during the revolution…
Well, this is a fair conclusion. But one must understand complicated position which the hierarchy of Ukrainian Orthodox Church of Moscow Patriarchate found itself in. They are hard to begrudge because, if the Church is to be with its faithful ones, we must remember that these faithful ones are in different parts of Ukraine and have different political orientation. For example, there is Church's congregate both in Sevastopol (not just pro-Russian but actually Russian by now), and Galicia… So how can Church keep its unity under such circumstances? It has to be neutral.
All the same, I must admit, this Church has managed to avoid major mistakes by demonstrative movement towards hierarchical subordination to the Moscow Patriarchate. When after the revolution at the beginning of Crimean issue, Patriarch Kirill showed most outspoken support to Putin's idea of "unification of temporarily divided Russian people" and so on. However, despite this, UOC-MP spokesman stated that the war has no God's blessing. This is a strong step! Almost the same signal to the Kremlin that not all Russians support the war in Crimea, as when in Moscow people with the slogan "Peace!" were arrested. Therefore, I would not be very critical towards UOC-MP.
It did not remain unnoticed that that immediately after revolutionary change of government in Ukraine, the Primate of UOC MP has changed as well – bishop of Chernivtsi and Bukovina Onufry has become Metropolitan instead of Vladimir. Who is he? Is he an autonomist, autocephalous, or loyal to Moscow?
I do not know him personally, but I know that he is a neutral person in the Ukrainian Orthodox Church. And if I were the head of the UOC-MP, I would now choose such kind of person exactly. You see, in this situation, Church has to be headed by neutral person in order not to fall to pieces. He did not rush into the maelstrom of political controversy on one side or the other. In the issue of the Crimea, he also is on the side of people who do not want war. So far Onufry has not made any serious mistakes.
Between Constantinople and Moscow, it has also not gone unnoticed that Patriarch Kirill preferred previous Ukrainian government, while Ecumenical Patriarch Bartholomew had a service for Ukraine and remembered Maidan victims in his prayers…
This is a normal position of Patriarchate of Constantinople and Patriarch Bartholomew himself. I suppose that he could do more, but Ukrainians are grateful to him for his signals and his attitude.
Did Pope Francis show solidarity with Maidan as well?
Yes. He showed solidarity with revolutionary Ukrainians. But, as they say, we always want more. However, we are grateful for Pope's constant attention to Ukraine.
Rostyslav Khotyn, Brussels
Translated by Anastasiia Matviiets
Source: UNIAN